It's the time of year when I begin to think about the summer and I have planned a few weekend silk panting workshops in my studio in Ramelton, Co Donegal.
My studio based workshops are very popular and tailor made to the ability level of the participants. I have professional artists and absolute beginners doing my courses and due to the very small number of people on the workshop everyone can have an experience they will remember for years.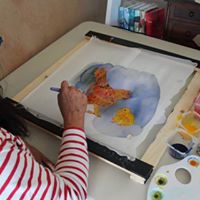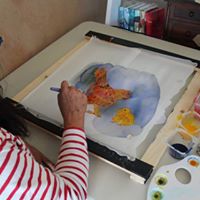 My daughters and I had a wonderful time at your Silk Painting Workshop recently. From your patience explaining the technique, to your advice and help in salvaging any creative mishaps!!!! You encouraged us to let our imaginations run wild, and inspired us to draw and paint beautiful prints that hang pride of place in our home and that we will cherish forever. It was such a happy, fun filled and therapeutic experience that we are looking forward to returning to your studio again soon.

Best wishes,

Fondest Regards,

Bernie, Brodie & Mirren.xxx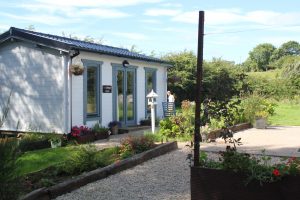 Set in the beautiful environment of my acre garden ( which is relatively wild and very inspirational for flora and fauna) you will arrive at 10.30am and have a brief introduction along with morning coffee, we will try out the basic techniques of serti silk painting and after a lunch served in my kitchen or in the garden weather permitting  we will move onto planning a take home finished piece of work ,the day ends at 4.30pm but you are very welcome to stay working in the studio after this time.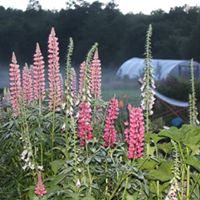 On day 2 we start and complete a finished piece of work, no one has ever left my studio without a finished piece. You may decide to make a lampshade, paint a silk scarf or do a piece of wall art with a maximum of 4 participants you can be guaranteed intensive tuition to ensure you work at your own pace but do finish a project. There is nothing worse than coming away from a workshop with an unfinished piece with all the good intentions to get it done and then life gets in the way and it sits in a drawer for ever more.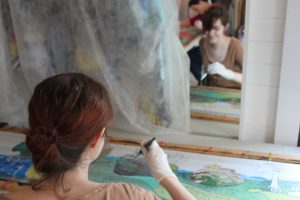 A totally absorbing and very creative experience – Karen is organised relaxed and fun in her approach and she has a way of bringing out skills you may not even know you had. It's a lovely setting and I can't wait to go back with some friends. I love my lamp – it looks amazing'

Leslie O'Connor Turner
Many people travel from far and wide and even from abroad for the workshops and I can recommend lovely accommodation near or in Ramelton which is a lovely vibrant village on the Northern part of the Wild Atlantic Way.
The price of a weekend workshop is €140 per person and  includes materials to make a silk scarf or a 30cm lampshade and a take away starter silk painting kit with an instruction booklet written by me, based on my experience of teaching silk painting and working professionally for many years as a silk painter. A light lunch and refreshments are also included, please mention any dietary or special requirements on booking and we will do our best to facilitate them.
Dates for 2018  available to book now
7th and 8th April
16th and 17th June
11th and 12th August
15th and 16th September
I also can travel to you to facilitate a workshop for a maximum of 8 people, please contact me for a quote.