Many of my craft making colleagues often moan and complain about selling wholesale, too high a mark up, late payments etc etc. In this article I'd like to celebrate some of my main stockists as I feel they are heroes of all retailers.
Why would you decide to sell Irish Craft, makers can be unreliable, deadlines can be a mere abstract concept to a maker. Lots of makers work on their own, so life's mishaps mean that our long suffering retailers patiently wait on their orders. It would be far easier and more profitable to buy nice trinkets, mass produced overseas and settle with a healthy profit margin. Wouldn't it?
One of my oldest stockists is the Bessemer 2 Gallery in Sheffield and their ethos is to
" bring you the best of new Artists & Designers from the local area as well as selected Makers from around the country. We are committed to quality; sourcing only the finest hand crafted pieces"
I feel privileged that I am one of their Makers, I've never been to visit and all communication is done via e-mail. Monthly without fail they lodge my sales into my account, liaise with customers on my behalf and take orders for me.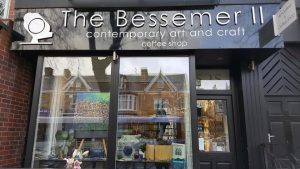 Closer to home for me is An Bonan Bui which is a cafe & bistro located in Rathmullan, Co. Donegal. Which also sells lovely crafts and host cultural and historical exhibitions on the second floor, they also serve damn fine coffee which makes deliveries a delight.
Daisie Stone in Dalkey, Co Dublin is run by mother and daughter and who stock Irish designed & handmade craft. They love bright colours, loud fabrics & pretty up cycling and as someone who had never shied away from using colour in my work , it fits right in.
A more recent stockist for me is Caffreys Gallery in Ballina, Co Mayo which is a family run business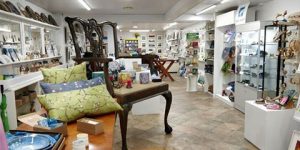 Gillian Dwyer runs the Anchor Arts Craft Gallery which can be found on the Cliff Rd Ardmore Co. Waterford (024)87740, the location looks idyllic and I can't wait to visit.
Sometimes makers decide to open a retail outlet and my work is stocked in for example
Carlingford Design house  which is run by the designer maker goldsmith Garrett Mallon.
"Carlingford Design House has also allowed me to showcase the work of over 40 other Irish designer makers from a range of disciplines. Many of these makers are friends and colleagues and we are delighted to bring their work to a new audience"
The Quay Gallery in Westport is a fusion of fine art and craft established by Susan Basler, Victoria Foutz, and Suzie Sullivan, these ladies are so inspirational in their own practice and they have such a great eye for quality and individuality.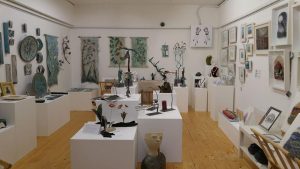 The Cat and the Moon was established by jewellery designer Martina Hamilton in 1989. The shop is named after an evocative 1924 play and poem by W. B. Yeats whose great works are synonymous with the Sligo region of Ireland.
Originally the shop was a showcase outlet for Martina's own multi-award winning jewellery but it quickly became one of the country's leading retailers of bespoke Irish craft.
McNutts is located in the seaside village of Downings, on Donegal's Wild Atlantic Way, McNutt of Donegal have been producing some of the world's finest weaves for over 60 years.In their shop you will discover an impressive collection of woven products as well as hand picked crafts made in Ireland.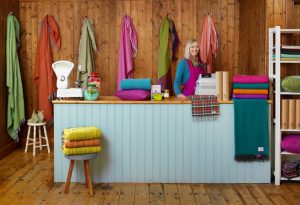 One of my favourite retailers is Amelia's Irish Design and Crafts in Letterkenny, Co Donegal run by Frances Spears. I met Frances years back when she had her Antique shop and was expanding into Irish Craft. Over the years her support and expertise have been invaluable to me in designing new products and giving me honest feedback from her customers who she knows so well. Her new Craft Gallery has made such an impact in revitalising the main street in Letterkenny and is a mecca for art and craft lovers both local and tourists alike.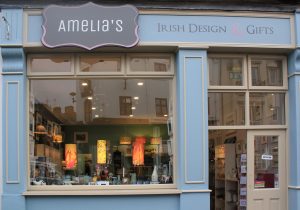 The Designerie is an innovative, arts and crafts social enterprise established by Causeway Enterprise Agency in 2015. Based in Bushmills selling exclusive and hand-crafted home & giftware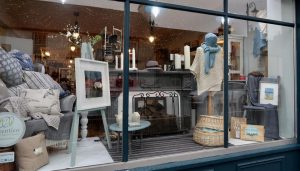 Space CRAFT, a Retail Gallery which opened in 2007 is a non-profit taking social economy enterprise owned & managed by the Artist/Designer/Makers of the Craft & Design Collective.
Space CRAFT opened in June 2007 and is designed to be a focal point for the commissioning, exhibition, promotion and sale of local Craft, Applied Art & Design.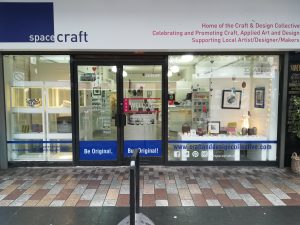 And finally our very own Donegal Designer Makers, in Ardara, County Donegal which is run as a non –profit taking collective for local Donegal based makers, which re-opens on the 15th March for the year 2018.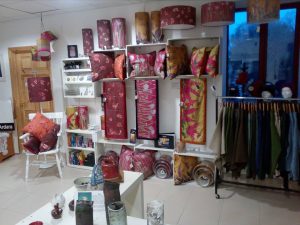 So thanks to my stockists and all those who take the harder but more worthwhile path and are retail heroes. If you would like to stock Kokodesigns please contact me for my current trade brochure and pricelist