As I am about to launch my new "Shoreline collection" I thought I'd look back at this time last year when Shaun Egan and myself were at the lovely "Frewin House" in Ramelton, Co Donegal doing my first ever location shoot of my interiors collection "A Country Garden".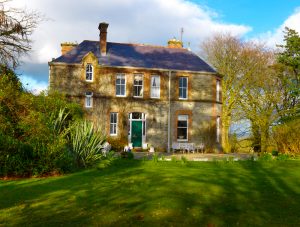 Guests of Regina and Thomas Coyle: who patiently allowed us to move furniture around and style their beautiful rooms and even provided afternoon tea in bone china cups and saucers. I made my first table runners for the collection which can also be used at the end of the bed and along with a local carpenter in the village of Ramelton made an ash and hand painted silk room screen. Hand painted silk cushions sat proud on the lovely furniture of Frewin House and my silk shades sat on the bedside tables next to the beautiful wooden bedframe.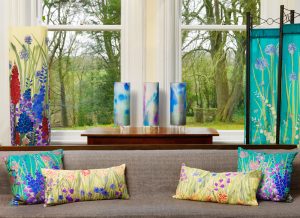 My signature hand painted silk floor light nestled on the stairs next to a gorgeous stained glass window. Previously my floor lights had been photographed while they were in an exhibition in the theatre in Letterkenny and they were purchased by the theatre and continue to be lit for evening performances but it was nice to see them in a home setting.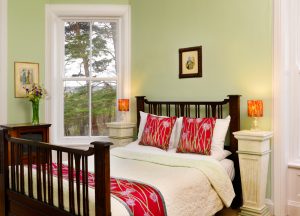 I've been silk painting for over 20 years and the range of products I have made has changed throughout that time but in 2017 I decided that designing, hand painting silk and making pieces for the home was what I really wanted to do for the next few years at least. It has meant hard decisions had to be taken, profitable product lines discontinued, leaving unsuitable and much loved retail outlets, disappointing loyal return customers looking to commission fashion pieces and a big financial investment in entering the market place of interior design.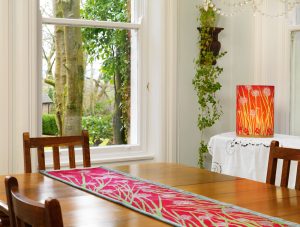 These decisions culminated in attending my first interiors show in May 2017 in the RDS Dublin.   What a shock to be in competition with international interior companies with whole set up teams, stylists and marketing consultants, a far cry from my usual craft fairs, where the designer makers are as talented at stand set up as they are at making and we turn our hands to everything. This was highlighted to me as my long suffering mum and myself slogged to paint our stand with a pot of emulsion and two paint brushes in our stockinged feet, much to the amusement of our fellow stand holders, who directed teams to do the work for them.
The home interiors customers were a surprise to me as well, a craft buyer in my experience is looking for something unique and authentic, the story of the maker is very important to them and the provenance of the piece. The customers I met at "House" were very influenced by media and trends they saw in magazines or on TV, at first I was taken aback when they showed me photos on their phones of their houses and asked me to decide on what would suit certain rooms and furniture, I couldn't believe that they would value my opinion. I felt a little daunted by the whole experience but have carried on and now don't miss a blink when I envisage how my pieces will sit in a customers home.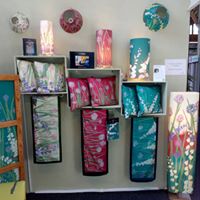 I took my collection home and launched it in Amelia's in Letterkenny, where it went down a hit and sold well.  You can still order the collection on line and parts of it will pop up in various retail outlets and used by interior designers  across Ireland and the UK but now for this year and in a couple of weeks my new collection is launched, the photoshoot has been done and it's so very different that I'm very excited to see the reaction it gets, those who follow my studio day to day on Instagram will know already that a lot of Jelly fish are involved, but none were harmed in the process.