As a maker one of the best feelings is to work on a bespoke commission, it involves taking two separate people's ideas and combining them into a single hand painted piece which you are both happy with. It can be time consuming or really fast and sometimes just "clicks into place".
As all my silk is hand painted by me in my studio it means I can do one off pieces and every piece of mine will be slightly different. I can match to people's interiors and make something really bespoke.  I also make a massive range of shades in all shapes and sizes.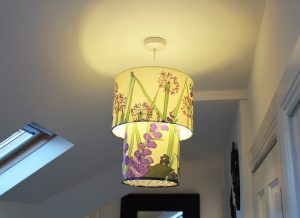 In this article I'll go through the commissioning process and show you some of the most recent finished pieces.
Thanks to all my customers for providing feedback and photographs.
The conversation
This either takes place over the phone, through e-mail or via face book messenger or in person at my studio or at shows, some of my retailers will also take orders for some of my simpler commissions . We decide what you want, the size, style, designs that you like and colours that you would like to be incorporated. This is helped by pages of previous commissions on my website.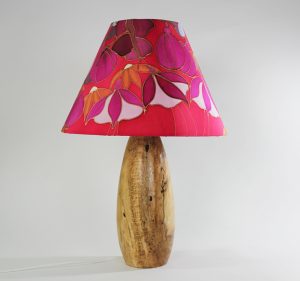 This recent commission came by e-mail from a fellow designer maker who wished to give a gift incorporating a design for friends of hers living abroad, An Irish woman married to a Lebanese man. The commission was short notice and after a few sketches and working on a colour palate I came up with the following design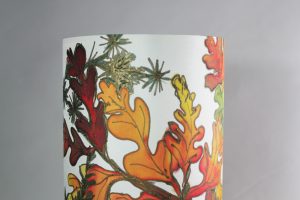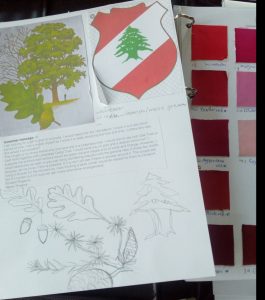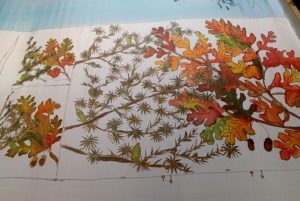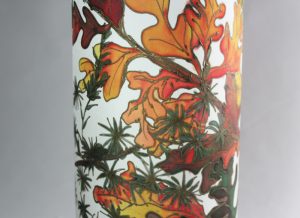 The samples
I had to e-mail photographs due to the fast turnaround and we both agreed on the design.  This was a commission that just clicked into place, from the minute I started to paint I just knew it was right.
In this example to make hand painted silk curtain panels for a wardrobe I provided several silk samples through the post and kept a reference photograph and the customers decided on the Design they liked the most, in the end they choose 2, one they used for the curtain and one for complimentary bedside cabinet and ceiling shades. Along with the samples comes the quote and time frame.  
All makers will tell you a time frame when you are creating can be a very fluid concept but I do try and keep customers in the loop of what's going on with regular updates on my progress.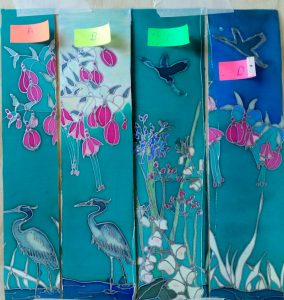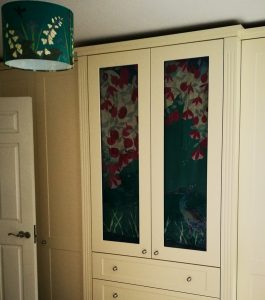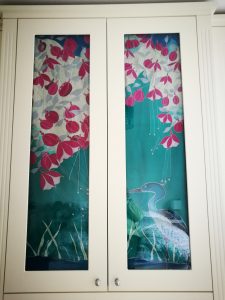 Flexibility
One of the joys of being a micro business in the creative sector in putting my creativity to be as flexible as possible in undertaking commissions but not moving away from my style or the ethos of my work. As with any painter I paint in my own style and there are things I cannot or am not comfortable doing. As I get more experience I know which commissions to turn down and those I know will work on  but I also strive to problem solve.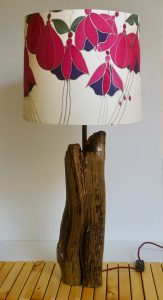 Last summer I made silk shades for a fellow maker based in Tasmania, due to the prohibitive costs of shipping we agreed to flat pack the shades and he made them up himself. Yesterday he let me know they had all sold on his fabulous drift wood bases, a great collaboration.
Similar but different
Most of my commissions are tweaking one of my existing 24 designs (and counting ) and slightly tweaking with the colours of the painting palate the impact this can have on the design never ceases to amaze me.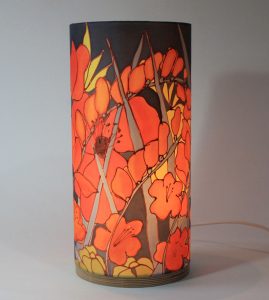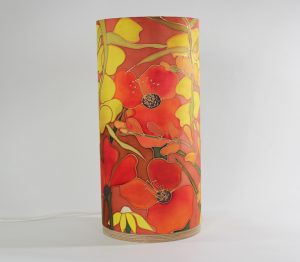 If you would like to commission a piece of hand painted silk for your home please contact me and let's get creating.