This April saw the launch of my new collection for the home "Shorelines". The collection comprises of 3 designs hand painted on silk and made into original lighting pieces, ceiling shades, silk cushions, table runner/bed shawl and an upcycled room screen. Photographed on location in the lovely Rathmullan Cottages, Co Donegal.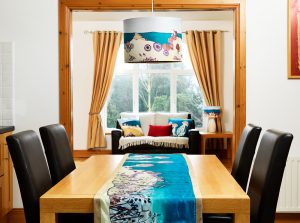 My designs were inspired by my love of the shoreline in County Donegal and the tranquillity and peace spending time by the sea brings over and over again. I head to the beach when I'm happy, sad, when I have a headache, when I want to think. Whether I am on my own , with family and when I have visitors. it never ceases to bring me joy and comfort. With this collection I wanted to bring a little of this into the home.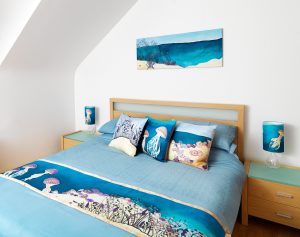 New for this collection is using  copper on the inside of the ceiling shades giving a warmth and glow to the hand painted silk shades. This is complimented with copper detailing on the silk painting.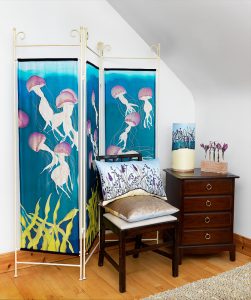 Seashells: A walk on the shoreline often results in a pocketful of sea shells to bring home as a reminder, this is a design painted from my personal collection of shells collected over the years. Mauves, browns, beige, creams with a teal sea.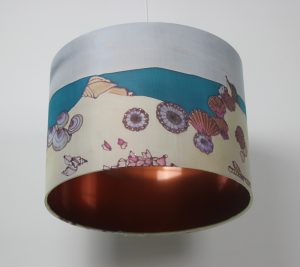 Seagrass: Up in the sand dunes the variety of the grasses never ceases to amaze. This design is outlined in black on a blue and cream background with purple and brown detailing.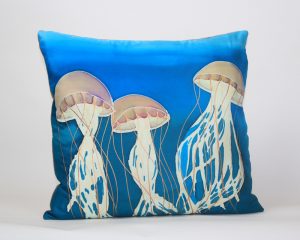 Jellyfish: summer 2017, County Donegal's shoreline was inundated with Jellyfish. Visualising them swimming in the sea struck my imagination and this design came from months of sketching and experimentation. Teals and blue with pink and purple, cream detailing.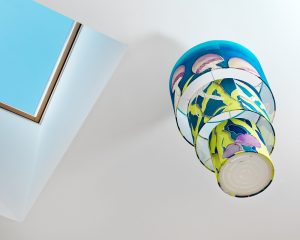 The silk tiered ceiling lights are available in 2 or 3 tiers of different sizes and they were a best seller in 2017 and they are one continual silk painting made into different tiers of the shade and are great in hallways and  landings.
The silk table lights can be ordered as round or oval all on hand made wooden base. They are a great centre piece of can warm up a corner of a room.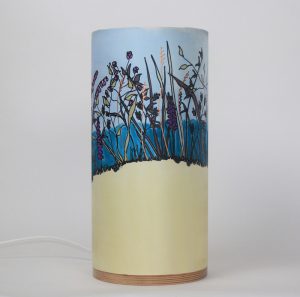 The hand painted silk cushions are backed with velvet and filled with duck down for a little luxury. They are available in 50x50cm squares or oblongs 40x60cm.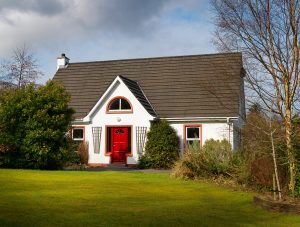 The collection is available in the Donegal Designer Makers collective in Ardara, County Donegal and on line at www.kokodesigns.ie